This Week in Bachelor Nation History: Chris & Britt Ditch Group Date for Big & Rich Concert
As we watch Season 27 of "The Bachelor," we're looking back on some of the most iconic moments in Bachelor Nation history.
This week, we're throwing it back to an extremely emotional group date on Season 19 of "The Bachelor."
For the date, Chris Soules invited six of his women on a group date where they wrote songs with country music duo Big & Rich and performed them for the group.
Kaitlyn, Carly, Jade, Whitney, Megan, and Britt all poured their heart out in their songs, despite Jade in particular being extremely nervous to write and sing.
During the songwriting process, Chris and Britt shared an intimate moment where they cuddled and kissed in front of the other women.
Both Kaitlyn and Jade said it was extremely hard to watch, with Jade adding, "It's hard to write a love song about somebody when he's clearly really into somebody else."
ABC
And while Chris said every single one of the women "killed it" with their songs, he was especially moved by Britt's song.
Chris said her song almost brought him to tears, noting, "I'm borderline bawling. Everything she said in her song is how I feel when I'm with her."
Then, during the night portion of the date, Chris snuck away with Britt and said he had a special surprise for her.
Whitney shared her frustration, saying, "We all had our one-on-one time with him and then we saw Chris and Britt run off together. It's obvious that they have an obvious connection. It's been in the front since the very beginning. I do feel threatened by Britt, and I think we all feel like this is the Britt and Chris show. I'm just wondering where Britt and Chris went."
Chris took Britt to a Big & Rich concert, where they danced and kissed in the crowd before they were called up to the stage.
Britt said, "I feel so special that Chris took me on this date because a lot of the other girls would have been really excited to be there for Big and Rich, but for me, this is my first country music experience. I'm sharing it with a man who I'm super into and who loves this music. He's bringing me into his world and that means so much to me."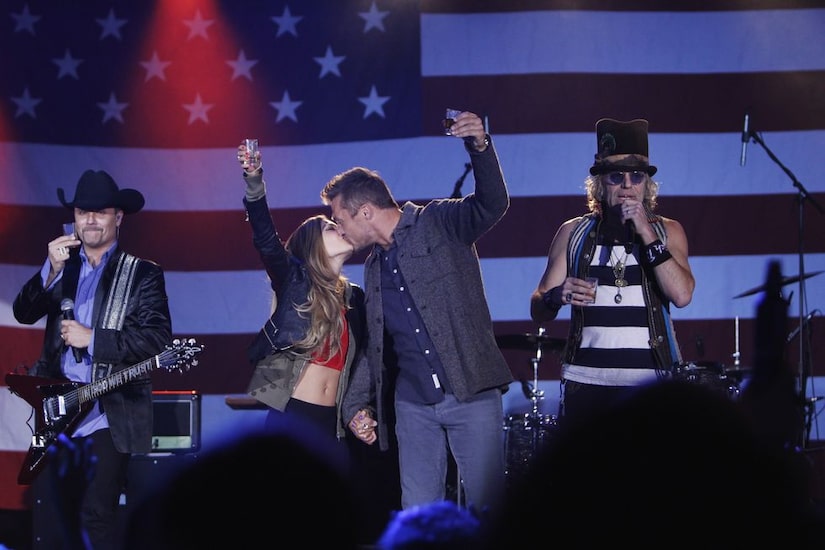 ABC
Chris gave Britt the Group Date Rose onstage and reflected on how special that moment was.
He said, "That moment onstage with Britt and Big and Rich and giving her that rose and seeing that look in her eye was intense. It was a moment I will never forget."
Britt felt the same sparks, saying, "When Chris asked me if I'd accept his rose in front of hundreds of people, I just felt so special and honored in that moment. I think everyone in the crowd wanted to be me and I felt like the luckiest woman alive."
Tensions arose when Britt and Chris came back to the group hand in hand with Britt holding a rose.
Chris addressed the women and broke the awkward silence, saying, "Obviously, this is getting very hard for all of us, and I felt like maybe not doing that in front of everyone was appropriate. It doesn't take away from how awesome today was. I'll let you girls have the rest of the evening to yourselves and I will see you soon."
Once Chris left, the other women broke down in tears and Britt sat uncomfortably with her rose in hand.
Check out more from this highly emotional group date below!