'Talking It Out': Bri Springs Reveals Mom's Skepticism of Bachelor Matt James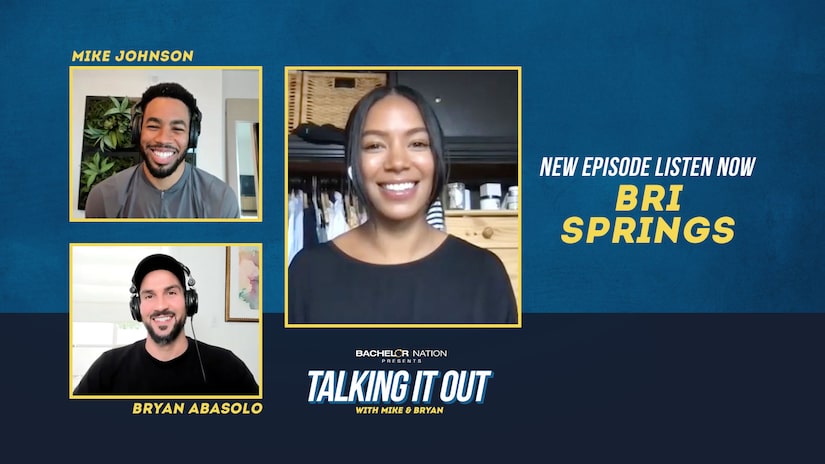 Warner Bros.
Bri Springs stopped by "Talking It Out" and chatted with co-hosts Mike Johnson and Bryan Abasolo about her experience dating Matt James on "The Bachelor" Season 25.
As viewers will recall, the standout contestant made it far in the competition for Matt's heart. Though Matt sent Bri home before his final Rose Ceremony, he had the chance to meet the stunning California native's mother, Lauren, on a Hometown Date.
As Bri explained to Mike and Bryan, her mom was "very skeptical" of Matt.
"I don't know if you guys saw my Hometown episode. My mom was very skeptical. I remember her saying something like, 'Hmm, interesting,'" Bri recalled. "She liked him. She thought he was nice. She thought he was a great guy. I mean, Matt talked every parent up. He said everything that everyone wanted him to say, so he was 'nice.'"
Waiting for your permission to load the Instagram Media.
Elsewhere in her "Talking It Out" interview, Bri admitted that her mom has never cared for any of her exes.
"My mom has never liked a single one of my exes," she said. "So much so to the point where she was like, 'Well, I'm not going to meet him. What's the point?'"
Bri went on to say that "parents always see things that maybe we're blind to" and then provided a personal example.
"I had one ex and my mom just did not like him. I guess it was from all the stories that I told her about him. It was a very rocky relationship. It was not necessarily the healthiest and I remember the first time that they were going to meet, she literally refused to come downstairs to meet him. It was crazy. I was so upset," she said. "I left. It was a whole dramatic thing. My mom and I are very dramatic. I'm a very dramatic person."
However, Bri noted that she appreciated her mom's "mother bear instincts."
"The relationship went very south, so mom was always right," she said. "And that's why, even more so now, I really, really look to my mom to have that vote of confidence from her because moms know best. Parents know best."
Listen to the latest edition of "Talking It Out with Mike & Bryan" below.