JoJo Fletcher & Jordan Rodgers Celebrate 5-Year Anniversary in Puerto Rico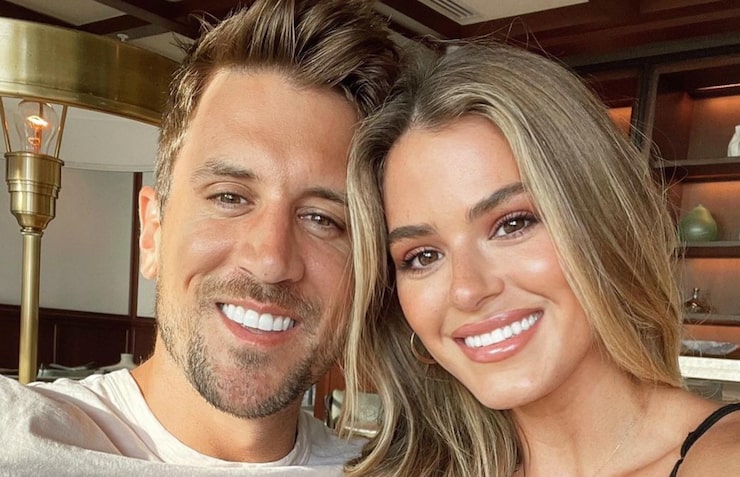 Instagram
Time flies when you're in love! This week marks five years since Jordan Rodgers asked for JoJo Fletcher's hand in marriage in Thailand during the Season 12 finale of "The Bachelorette."
The beloved Bachelor Nation couple celebrated their relationship milestone during a family vacation to Puerto Rico, as seen in Instagram Stories posted on Tuesday.
"Happy five years!" JoJo exclaimed in a video clip on Jordan's Story that showed the pair and their loved ones hanging out on a boat while preparing for a snorkeling adventure.
"Boat ride. Boat trip. Five-year anniversary. Got the whole gang," Jordan said. "Yeah, it is five years today in Thailand."
JoJo then admitted, "I thought it was six," to which Jordan quipped, "She thought it was six. I'm not sure if that's a good reflection of our relationship or…"
Added the former franchise lead, "I'm losing count of time at this point."
Waiting for your permission to load the Instagram Media.
Later, on JoJo's Story, she revealed that seasickness had negatively impacted her special day with Jordan.
"Today I learned something new about myself," she said from the bow of the boat, where she was sunbathing. "Apparently I get really seasick, which is a new thing for me. I just threw up off the side of the boat. Super romantic, happy five-year anniversary!"
She continued, "But I'm feeling better. But I had some ginger ale. And now I'm just going to relax. They're off snorkeling and I'm just hanging out here."
Eventually, JoJo felt well enough to jump in the water with her fiancé. "I'm feeling better," she said, wrapping herself around Jordan. "I need to just be on solid ground or in your arms."
Instagram
Not long after getting engaged on "The Bachelorette" in 2016, JoJo and Jordan moved to Dallas together. After Jordan re-proposed in August 2019, the duo had plans to tie the knot in June 2020. However, their nuptials were postponed due to the novel coronavirus pandemic.
JoJo and Jordan set a new date for May 2021 but decided not to move forward with the ceremony due to COVID-19 restrictions.
"We're kind of in a place now where we're realizing that even when May rolls around, that it still might not be open enough to have a safe, normal-ish wedding where family and friends can travel in and we can have what we've been working on and planning for so long to have," Jordan told People, noting that their chosen venue only allowed for 10 guests to be in attendance.
As JoJo explained during an Instagram Live earlier this year, she and Jordan will become husband and wife once the stars (finally!) align. "We would never sacrifice that day to just rush and get it done," she said. "So if it can't happen the way we want it to happen, we'll do it when we can."