Why Tayshia Adams' Dad Desmond Is 'Happy' His Daughter Ended Up with Zac Clark on 'The Bachelorette'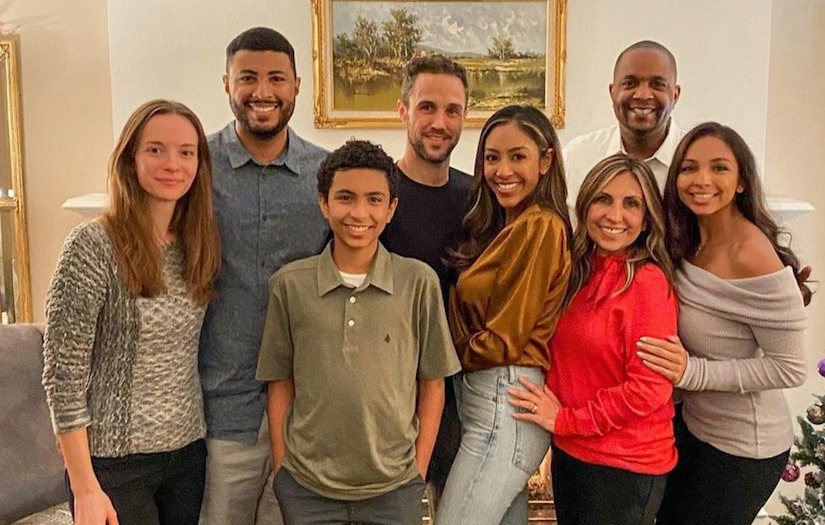 Instagram
When Tayshia Adams handed her final rose to fiancé Zac Clark on "The Bachelorette" Season 16, her father, Desmond Adams, couldn't have been more thrilled.
"Who you see is what you get, and that's what I really liked," Desmond said of Zac during this week's episode of "Talking It Out," explaining to co-hosts Mike Johnson and Bryan Abasolo that the handsome addiction specialist who won his daughter's heart is a "genuine, good guy."
Desmond said that he felt Zac signed on to the show for the right reasons — and was reassured of this while speaking to the front-runner during a successful Hometown Date.
"A lot of people, as you guys know, they used [the show] for whatever, promoting [themselves] or whatever. I think it was pretty new to Zac, if I recall, as well," Desmond continued. "He wasn't really a follower for so many years or whatnot. So, I think it was new for him."
He added, "During our conversations, we had some good heart-to-hearts, even during our first talks, and so I was happy with him."
ABC/Craig Sjodin
Desmond — who raised Tayshia and her siblings in Orange County, California — noted that he is "still happy" with his daughter's choice and is delighted to see the couple thriving in New York City. "[I like] how things are progressing with them," he said. "It's nice. He's a really great guy."
Elsewhere, Desmond gushed over Tayshia's success after leading the franchise. The TV personality — who co-hosts Bachelor Nation's "Click Bait" podcast — has since posed for such magazines as Marie Claire and Cosmopolitan, guest hosted "Entertainment Tonight," accepted an MTV award on behalf of her "Bachelorette" season, and scored a series of major brand partnerships. Additionally, Tayshia is co-hosting the current season of "The Bachelorette" alongside Kaitlyn Bristowe.
"I knew she was going to be somebody ever since [she was young]. This is her. This is Tayshia — even when she was very little," Desmond said. "I even remember, in her high school yearbook or something, [she was named], 'The person most likely to be on TV,' or something. And all the girls picked Tayshia. So that has always been her personality and whatnot."
He elaborated, "To see it truly come to life and manifest and see where it's at and just thinking of the possibilities, it's just unimaginable. I'm so proud of her."
Listen to the latest edition of "Talking It Out with Mike & Bryan" below.