How Franco Lacosta Knew Tayshia Adams & Zac Clark Were 'Supposed to Be Together'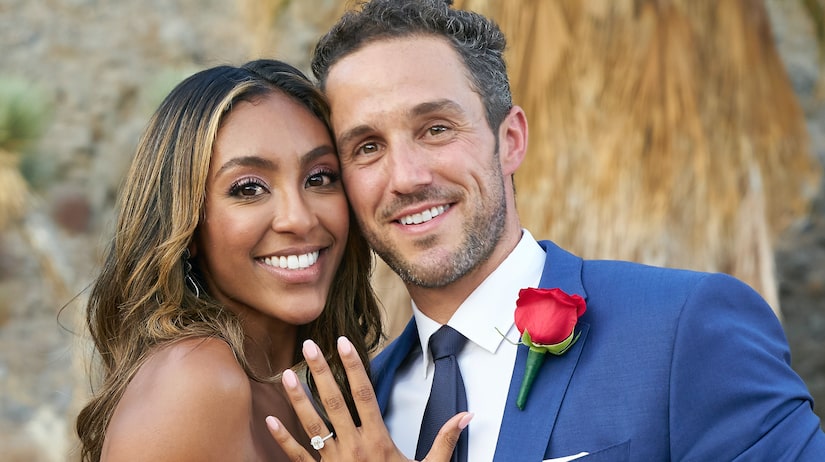 ABC
Franco Lacosta stopped by "Talking It Out" to chat with co-hosts Mike Johnson and Bryan Abasolo about his unique experience within Bachelor Nation.
The designer, creative director, writer, producer, and TV personality has appeared as a guest on the franchise for the past several seasons, presiding over dates and watching love stories unfold from start to finish.
Looking back, Franco — who assisted Tayshia Adams in her journey on "The Bachelorette" Season 16 in 2020 — said that he knew she was destined to end up with now-fiancé Zac Clark.
"I love Zac and Tayshia. I met Tayshia first and then he came. And she's just so gorgeous and she's wholesome. She has this beauty," Franco recounted. "Zac, when I met him, I was like, 'Wait a minute, guys.' I immediately went into a trance about them two being together because they're supposed to be together. And that was at a very early part of the situation."
He continued, "I [called it]. I did. And I told them both. I was like, 'You guys are supposed to be together because you have unfinished business together.'"
Franco went on to say that his favorite part of working with the Bachelor franchise is seeing all the incredible couples it creates — especially Tayshia and Zac.
"It makes me happy," he said. "The fact that I said it was going to happen and the show went through, and they were right [for each other]. They knew. Of course, they edit everything out of the beginning, but I was like, 'You guys are supposed to be together. Period.'"
Franco — who will preside over a one-on-one date for Katie Thurston on tonight's episode of "The Bachelorette" — added, "I'm so happy because [Tayshia and Zac are] really wonderful, wonderful people. And them coming together is beautiful."
Listen to the latest edition of "Talking It Out with Mike & Bryan" below.
"The Bachelorette" airs Mondays on ABC at 8 p.m. ET.